We have a special treat for lucky number 13 (episode 13 that is) of the podcast, our good friend Shawn Soden! If you think you've heard the name Soden before, it's because you probably have. Soden Bowl is a premier Madden league on XBOX and has been around a long time and is a huge force in the Madden community. Shawn has been a friend of League Crawler for a long time, is considered a "platinum" member and I've appreciated him so much over the years it is hard to get it all in. Back when I was doing end of the year awards (possible we might do that again), I also gave out an "MVP" award to the league or person that helped League Crawler the most. Synergy won it one year for his tireless efforts pushing League Crawler to people on various chats and about the time his life was getting busier, I lucked out and met Shawn Soden. Shawn immediately jumped in and supported many of the things League Crawler was doing at the time, notably our attempt at #LCTV. He also shared some great ideas for the site, helped us get the Discord going and honestly has just been a friend to lean on over the years.
I could talk a lot about his character and what he has meant to League Crawler, but this interview is more about getting to know the brains behind what I consider to be a Top 3 Madden League out there (maybe the best?) right now. They currently have two Madden leagues (current and next gen) and an MLB The Show league. What I find crazy about Soden Bowl is how they consistently have some of the highest quality graphics, presentation out there. Having been a former commish, a website developer, graphics guy, etc – I know how much time and effort it takes to do this stuff. It doesn't take long to find leagues doing "content" but its rare to find leagues that can keep up with it and also continue to produce HIGH QUALITY stuff like Soden Bowl.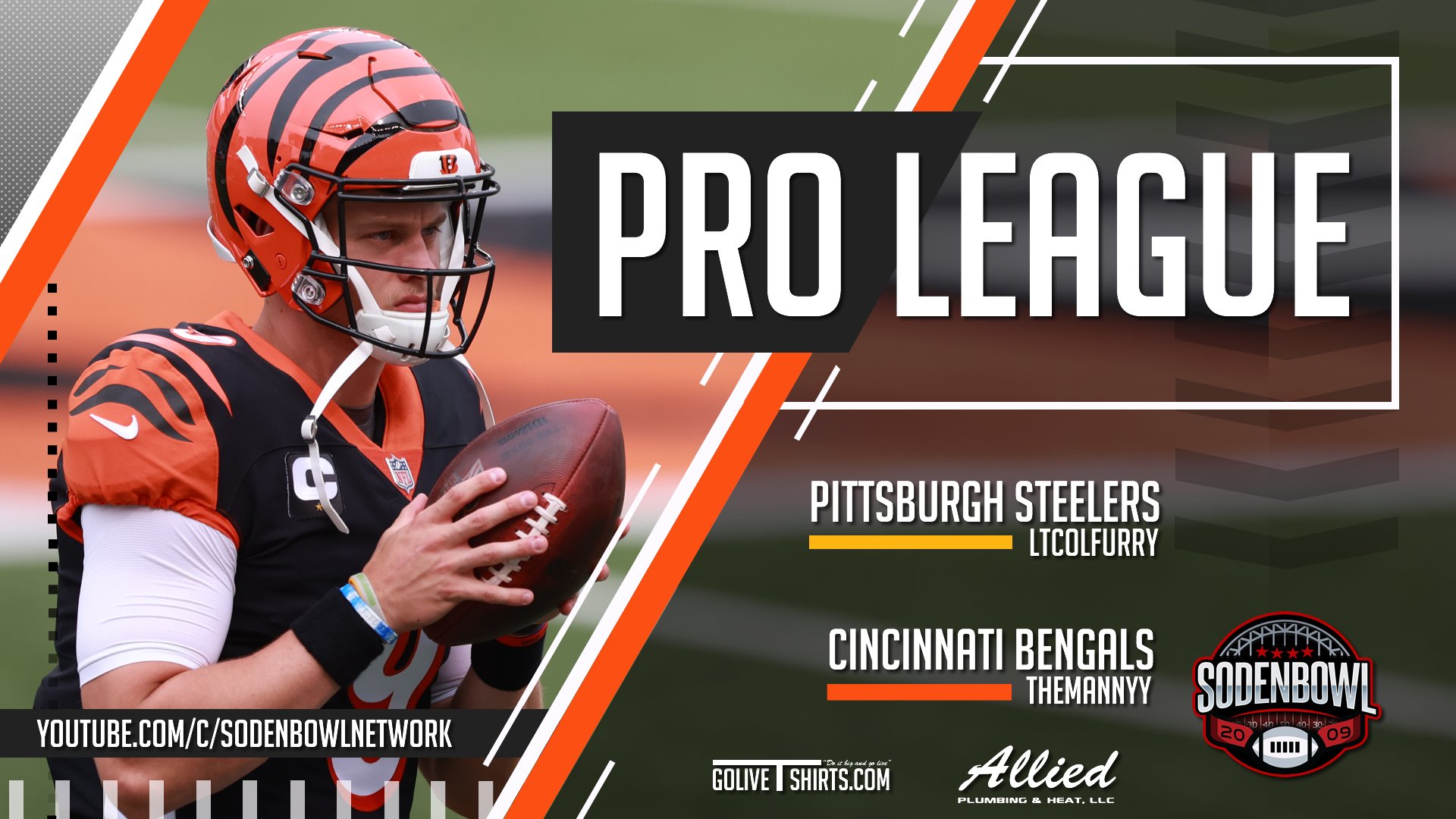 One of the things I liked most about this week's podcast and honestly something I'm enjoying while listening to Moe talk to our guests is, guys like Moe, Shawn, Nate from OMFL and all the others that we think about when we think of the upper tier of Madden leagues…. these guys LOVE their community more than they love the game. The game is kind of a delivery device – like, when you have great dip and mediocre chips – the chip is more of a dip delivery device than anything. I digress. Madden is fun, we all love it but we can all agree it's lacking in many areas. The best guys out there running leagues though – the guys I mentioned and all the others – DaDynasty, DadBods, MSR, Bless League, Elite and the list literally goes on and on – the leaders of these leagues almost thrive on what the game DOESN'T provide so they have the ability to deliver those element to their communities themselves.
I highly encourage EVERYONE that plays Madden, runs a league, wants to join a league, is interested in live streaming, graphics, presentation – any of that stuff to pay close attention
Also, if you're enjoying all the things going on at League Crawler and want to get featured as a supporter on our website, newsletter and podcast episodes, consider supporting us via Patreon. None of what we do here is behind a pay wall and we don't have any google ads on the site so – we rely solely on our community to support the site (that is, until we get some big name sponsors at some point). Any way you choose to support us helps (word of mouth, sharing content, and financially) so – thanks!!!